Day 1 of fashion week is constantly approached with a certain lacklursterness that hovers around the remaining days like a cloud. But with a solid line up of emerging designers such as Style Temple, Belois Couture and Titi Bello alongside established names such as DZYN and Onalaja, proved all past notions unfounded.
Highlights of Day 1 includes a beautiful surprise performance by Waje during Wanger Ayu's show, new and unforgettable faces such as – Few Models' Benita Ango who brought a certain level of effervescence and high fashion to every look she wore, a commendable collaboration between Latasha Ngwube's About That Curvy Life and LFDW which brought plus size designers such as Aisha Abubakr Luxury – who had a stunning black and white satin based collection that incorporates frills that moved gracefully as the models walked, telling that plus sized ladies too can be girly and fashionable, and of course, MaBello Clothier whose use of sparkly fabrication and see-through laces brought added edge to the clothes. In this sense, LFDW's inclusion of plus-sized brands and models into its schedule is indeed praise worthy.
As you'd expect, not all was rosy. Vlisco X Lanre Da Silva fell short of my expectation. Seeing Lanre Da Silva's aesthetics through those pieces was as difficult a task as watching Divine Endowment's surrendering ankara based collection. Kinabuti's collection of furry stools, leather gloves and hooded jackets walk down the catwalk in a Spring/Summer week. For Lanre, her intricate details were completely lost in the prints which is only expected, I'd have expected more twists with her silhouettes just like Loza Maleombho – which in my opinion, is the best way to treat exuberant wax prints.
Find below 6 of my Best Collections at Day 1 of LFDW 2016:
Sisiano
Sisiano's devil-may-care collection of voluminous pieces is the brand's best collection thus far. It was bold, audacious and exhibited a certain mastery of the brand's aesthetic of breeziness and flight – which I found infectious and I think shone the brightest last night. I could imagine nearly every best dressed woman I hold dear to my heart wearing each of them.
The brand's womenswear, which by the way is their strongest point, had accents of see-throughs, shredded fabrics made into fringe, rushing and frills. Although the collection progresses smoothly from white to other pastel shades, it was nonetheless cohesive and well done.
Style Temple
For a debute LFDW showcase, Style Temple took the most risk considering the profound level of complexity, twists and turns surrounding the collection. The brand's presentation started with a short film that had black historical figures such as Viola Davis and Martin Luther King with a sound track that had quotes about freedom, identity and emancipation; accents of these could be traced across the collection in the sense of fringes, tassels, construction and deconstruction.
Looking at the clothes a little more poetically and critically, it was a beautiful battle between all these elements. Style Temple's collection was nothing short of perfection, and just like love or hate, the collection doesn't need any telling. You just feel it.
Belois Couture
Under what might perhaps have been the most intense pressure any emerging designer can ever be placed under, Beloise Couture proved to be a diamond out of the rough and a victor after kicking off fashion week in an unforgettable manner.
Another brand would have cracked under the intense pressure of such a great task, but Belois reached for the stars with her off-the-shoulder pieces that melted hearts, calmed nerves and anxieties as it walked down the runway, with follow ups that together have finally carved a place for Belois Couture in the Nigerian fashion industry.
Onalaja
Onalaja easily had one of the most complex collections of the day. The brand played around with browns, appliqués and accents of discs and metallics. Pleats played a major role in defining some of the collection's stand-out pieces such as the head-toe pleated number and the exaggerated pleats spread across the red and gold-sleeved shift dress, the intricately beaded frilled dresses also stand out in no small measure. But what I found totally underwhelming are the ruched tube dresses that I felt lacked originality and some sense of innovation; other than these, it was ultimately a good collection.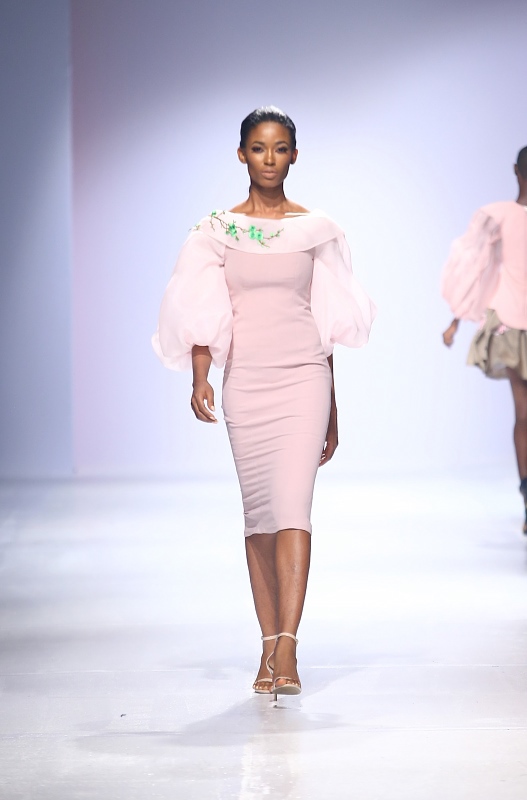 DZYN
Dzyn closed Day 1 on a high, powerful and dynamic note like a true industry stalwart with the brand's beautifully tailored architectonic collection that had suspended layers, singly-sided exaggerated peplums, larger-than-life bell sleeves and floral appliqués. The collection, light in colors, deep in craftsmanship stands far and above the ordinary, further cementing DZYN's place in the present and future.
Titi Bello
The Titi Bello SS17 woman will definitely be unapologetically in-touch with her sensuality. She'll hit the board room in pin-stripped pant suits with a provocative deep décolletage that will turn heads and leave mouths wagging and at night, show up at the opera or for cocktails in some of the most alluring evening dresses, unabashedly showing forth her femininity without breaking a sweat.
Richard Akuson